Junk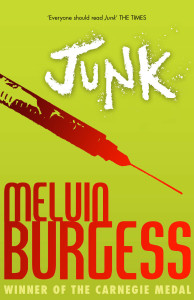 Eighteen years ago, Andersen Press published Junk – and here it is back home again – the latest in a line of new issues, with sparkly new covers. I think they're doing a great job!
Junk caused a huge outcry when it was first published back in 1996. It was on of the very earliest YA books to come to public attention in this country, and when it won the Carnegie Medal and the Guardian Children's fiction prize, the press were outraged, fascinated, enraged – you name it. A nationwide debate sprang up about children's fiction, YA fiction … about innocence, censorship, and the kind of material young people should be exposed to. It got a lot of flack, but also a lot of support from people who understood what it was about, why it was written – and most of all, from people who loved it as a great story, about believable people, in a world they recognised.
You can read more about Junk here. And you can buy it here.