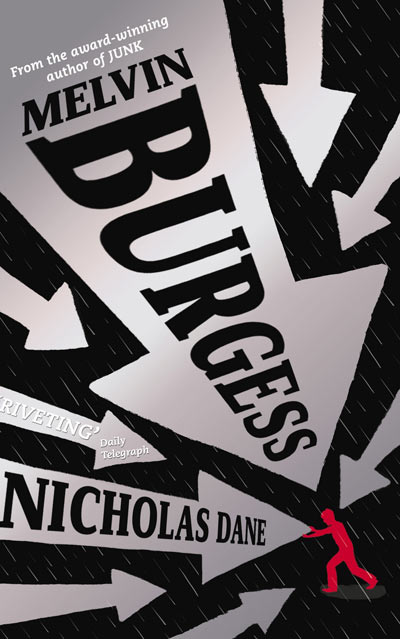 Authors note
Bizzare! – Reviews in for Nicholas Dane continue to  bounce between the sublime and the ridiculous.  So far, no one can agree on anything.  For Nick Tucker in the Independant, this is a "fine novel" and "Melvin Burgess is the ideal author ot recount these travails."   According to Sally Morris in the Daily Mail, the second half of the book is "a brave exploration of how the brutalisation of children reverberates long after it has passed," while to Patrick Ness in the Guardian, "The sexual abuse story fades baddly into the background and when it does re-appear, it feels like a failure of nerve from one of the nerviest wirters around."   At the same time, over in Love Reading, his boss on The Guardian, Julia Eccleshare, says the story is handled "with great sensitivity and engrossing narrative drive."
Peter Hollingdale in Books for Keeps says that "the book's well documented and appauling subject matter deserves something better," and suggests that the "timely subject matter does not excuse the poor and overall erratic quality of the writing,"  while Christine Baker, editorial Director of Gallimard Jeunesse, the much respected French publishing house, speaks of "the humanity that shines through the  whole book. … It's obviously a powerful read, but it is also well-judged and with a huge heart."
What to make that lot?
Well, I guess i'm not the one to say, although I will blog about it in a little when all the reactions are in.  In the meantime, suffice to  wonder how much genuine critical judgement is falling behind readers personnal reactions to the subject matter.  Without doubt this book has attracted moree concern about it's suitability for young people than any of my others.  Books like Junk and Doing It attracted disaproval but it was mainly press generated, with those for and against split along fairly straightforwrd left-right lines.  In this case, however, there is obviously a great deal more anxiety on all sides that institutional abuse is not a suitable subject for teenagers to engage with.
A quick over view for those in a hurry …
The world turned upside down – a good review in The Daily Mail and a bad one in the Guardian!  what is going on?
Patrick Ness in the Guardian has almost nothing good to say about this book.  He is extremely suspicious of my motives for writing it, coming from the school of thought which thinks that  writing books like this is some kidn of publicity stunt on my part.  All I can say to that is, I write them with no cynicism whatsoever.  I'd be on Doing 3 by this time if that's all it was about.  He thinks the femal characters are "unreadable" and feels that the whole story falls to pieces in the second half when NIck escapes from Meadow Hill.
"A reader, perhaps especially a teenage one, will feel properly upset at the horror, and then dismayed as that horror dissipates into something more muddled."
Well, whether my book is good or bad is up to other people to say – but I do think you missed the point of the second half, Patrick.
A much more generous review by Judith Wood in the Daily Telegraph, who sees the book as my most "substantial and ambitious work to date."  The book  is "harowing and riviting" and the "psychological insights are richly rewarding"  On the other hand, it's "unputdownable – but not necessarily in a good way."  Ultimately – "Nicholas Dane is an important book that needed to be written. Whether it needs to be read by my children is another matter."
Excellent review in Love Reading, also from the Bookwitch.  If you want to find out more about the book and why, and how, I wrote it, there are interviews in the Yorkshire Post and Write Away and you could do worse than read the article by myself in this month's Books For Keeps.
REVIEW BY PETER GARSDEN of Abney Garsden McDonald
The writing of Nicholas Dane began when I read an account it he local paper of an abuse case that had just been brought to a successful conclution in Manchester.  It was one of many, many such cases that had come to light over the past twenty years or so of institutional abuse, and I thought that it was about time I got down and tried to tackle this most difficult of subjects, since there it was, righ tin my own backyard.
Peter was the lawyer who had dealt with the case, and my first move was to email him, explaining who I was and what I wanted, asking him if he'd be preared to meet me and talk about his work.  Peter was more than generous with his time, knowlege and expeertise, adn there's no doubt that without his cooperation, the book would never have been written.
Book Review of "Nicholas Dane" by Melvin Burgess
Author of Review: Peter Garsden.
I first encountered the book "Nicholas Dane", when the author Melvin Burgess contacted me in 2007, following the successful conclusion of the first child abuse Group Action into Manchester Children's Homes, which compensated the victims of abuse at children's homes owned by Manchester City Council. Most of the claims I had been involved with concerned a home called Rosehill inWythenshawe between the 1960's to the late 1980's. Melvin explained that he wanted my help with a fictional book he wanted to write on the subject. I spent a very pleasant evening with him, during which I tried to paint as many pictures as I could of the scenes and characters, from the cases I had dealt with. 2 years later I eagerly anticipated the publication of the book.
When I am asked to review a book on child abuse, I usually approach it on the basis that it is something I have to do for work. The big difference here was that this was no catharsis of emotion as part of the healing process of a survivor, but rather a work of fiction designed to entertain. First to read it was my 15 year oldfoster daughter, who devoured it with a passion exclaiming it to be "well good", not the best English but telling considering it runs to 400 pages in hardback. So I approached the read with some scepticism thinking that itwould be like reading a file at work. I quickly became completely immersed inthe story, and could not put it down.
As the blurb says, it tells the sad story of Nick who loses his mother and is put into the care ofa  children's home called Meadow Hill where he is brutally abused by the archpaedophile Tony Creal. Using his wits he escapes with another victim aptly named Oliver and Davey (for which read Artful Dodger.) To avoid capture andr eturn to the abusively cruel environment of Meadow Hill, Nick falls into the underground Mancunian world of Shiner, for which read Fagin and his brutalsidekick Ben Jones (Bill Sykes), the orchestrator of most crime in Manchester. Not surprisingly Jones has a sweet girl whom he beats up on a regular basis.Jones is also the victim of the care system. Nick gets all tangled up in crime.I won't give away the ending but it is non too pleasant and very gripping in a Dickensian sort of a way.
The publicity is right when it says it is "a page turning blockbuster of Dickensian scale which will have you furiously turning the pages and longing to rescue the young hero, Nick from his abusers."
What of the unashamed parallels with Dickens? Is it believable or too contrived? It is very significant that our social care system in this country is derived from the moralising charitable acts of the Victorian well to do, who felt guilty aboutt heir exploitation of children set to work in poor conditions as a by-productof the industrial revolution. Thus the parallel, which at first blush looks trite, is in fact completely appropriate. Indeed the conditions and standards of care in some ways, have not moved on very much since the turn of the century. Children continued to be used for cheap labour right up to the 70'sand 80's. Thus a book about the worst aspects of our social care system neatly links the past with the present.
The other aspectof the Dickens connection of most importance is that it neatly lightens what would otherwise be a deeply dark and foreboding work of fiction. From talking to Melvin in the early stages, I know that he was anxious to entertain not depress the reader. A book about the horrid exploitation and abuse of children could easily descend into an abyss too dark for a work of fiction. Thus the Dickensian parallels neatly remind the reader that, although the story is chillingly accurate, it is after all just a work of fiction to be enjoyed for its own sake. This works very well for me.
How accurate ist he book? How close is it to historical fact? Since I was a contributor, aswere some of my clients, you would expect me to say that the book is close toa ctual fact. The truth is that I recognise the character sketches of a numbero f real life abusers. Their grooming techniques and behaviour are frighteningly accurate. The atmosphere within the home Meadow Hill is very similar to what I understand it was like in the home it is based on.
So how successful is the book? I found it completely absorbing and gripping. I felt as though I was right there with our anti-hero all the time, even though the things that were happening were very similar to our real life files at work. All myc hildren have read it and think it is brilliant. All the solicitors at work have also enjoyed it. And we are in the business. It is a great book to enlighten the naive adolescent and educate them about the dark side of life that hopefully will never knock at their door. For my clients and the victimsof historical abuse, it is not necessarily something they want to read, but rather a story which recognises the reality of what they went through, and desperately needs to be told.
© PeterGarsden, Abney Garsden McDonald solicitors, Cheadle Hulme, Cheshire. Emailpeter@abneys.co.uk Website www.abneys.co.uk andwww.abuselaw.co.uk
Peter is the senior partner of a firm of solicitors who have the only dedicated child abuse compensation department in the country. They run several group actions, and have a legal aid franchise. Peter has extensive media experience of Radio, Television, has written articles for many newspapers and other publishers. Peter also lectures on the subject of child abuse for ACAL (Association of Child Abuse Lawyers) andother organisations.
ABUSE LINKS
Sadly, cases of abuse still occur regularly regularly in our society, and all too often it is vulnerable chidlrten who are often the victims. Having said that, young people from all walks of life are subject to attack.  Whoever you are, if you want to talk to someone about this, on your own or someone else's behalf, some of these sites might proove useful.
First and most importantly, Childline. If you even suspect you are suffering from any sort of physical or sexual abuse, please get in touch with Childline. It never helps to talk, and the very worst thing that abusers do is inspire feelings of guilt, create secrecy and a desire to remain silent. Don't fall for it! -click here and get information and help.
Abuse comes in many forms. Here are a few sites that might be useful.
http://www.abuselaw.co.uk- a dedicated abuse site run by Abney Garsden MacDonald, who specialise in abuse cases.
http://www.irishsurvivors.org.uk— An Irish based site run by the same firm of solicitors.
www.childabuselawyers.com— Site for the association of child abuse lawyers.
Careleavers.com — A site dedicated to people who have been in care.
Bully Online — Bulyin gis a form of abuse, too.  Of course, like all abusers, bullies do there best to convince you otherwise. Again, if you even suspect you're being builied, try this site
You can find a fantastic variety of other related sites on the links pageat Abney Garsden Macdonald's abuse site.
Readers comments
Letter from Filomena
For me is better than Oliver Twist – so much more twisted, crude, real – life as we feel it! Great. I've read other books by you and the colours on this one are so metallic that the whole plot lingered in my head for a long time.

Sexual abuse is an awful subject that people are often afraid to tackle and by doing that they are not helping society at all – they are leaving it untouched and untouchable and I hate taboos for that reason. They grow and grow and become stronger than they ought to. Thanks again for being bold enough to tackle uncomfortable themes and showing us that it can be done. Respect
Filomena
You are so right! In the past I've had books that have been slated and attacked, but the reaction to this one was really strange. People were fascinated … but then they just melt away from it. I think we're at the point where we can admit that this sort of thing happens – a couple of decades ago people found even that hard, which is why paedophiles just got shuffled on from place to place to carry on abusing. But still no one wants to engage with it and think about it and understand it … crazy! So your reaction means a lot. can I post it …?
Melvin
Letter from Christine
Dear Melvin

I think Charles Dickens would be proud of the tribute. No one but you could have treated such a bleak, cruel subject with such warmth, and sensitivity. I see it, maybe unexpectedly, as uplifting, because of the resilience of Nick, and the humanity that shines through the whole book. Your unflinching honesty is unique to to you, and brings your writing to a level rarely reached. It is very important to understand that it is evil that breeds evil, and that, as you say "Bill Sykes was an abused child", and although your pain at having to take your characters throughsuch relentless -and, unfortunately, real – horror, is evident to see, it's always done with understanding, even understanding of evil. It's obviously a powerful read, but it is also very well-judged, and with a huge heart.

I feel that the readers, particularly your public of adolescents of course, will feel great respect for it and will be enriched by it, and will love being treated so responsibly by… you.

Christine Baker

Editorial Director

Gallimard Jeunesse
Letter from Sharon
Dear Melvin
I enjoyed hearing you speak at the launch of Nicholas Dane in London. I've started reading the book and am about half way through, ofcourse the material is painful but I am so glad that this book exists.

I am a psychologist and I do a lot of medico legal work, ie report writing forthe courts – most of the family cases I work with involve children who have been placed in foster care as a result of neglect and abuse. I previously worked in a trauma clinic in South Africa where there is no shortage of abuse of any kind, so the themes of the book are very familiar to me. The accounts of the way that the boys are groomed for sexual abuse and the way that Nicholas initially turns his anger toward the abuser onto himself in the form of self loathing are so accurate.

I do not think that this book will traumatise any adolescent who is otherwise emotionally healthy and securely attached to their parents, and on the optimistic side it may give hope to those adolescents who have experienced abuse and encourage them to seek help. Any book that raises awareness of these issues is one step further to protecting the vulnerable, and the advantage of this one is that it has accurate information that is much moreaccessible to teenagers that it would be in text book form.
Best wishes,

Sharon Lewis

Dr Sharon Lewis
Chartered Clinical Psychologist
Letter from Phoebe
My name is Phoebe O'Leary I wrote a while ago to tell you how much i enjoyed junk. However I must say I think Nicholas Dane is your best book yet. I will admit that i haven't actually finished it yet, I have about 60 pages left, But I'm going to France for six weeks so i said I'd better write now!

Nicholas Dane is one of the saddist books i have ever read. You excellently captured the characters feelings in an amazing way. it is realistic but yet so horrible that you don't want to imagine it. How would you say………….. Fantastic, inspiring, Brilliant. I couldn't put it down and my parents will vouch for that.
All that said, I didn't find Nick a lovable character, however, by the time we meet him he has gone through a lot. Oliver on the other had made me cry, I so desperately wanted to help him, I wanted to throw the book out the window when he didn't get away [ But then i would have go and get it] …. He was my favorite character, followed by Sunshine.

If Nicholas Dane ever does get adapted for stage will you post it on your website, I think it has real potential.

I just want to tell you how good a book it is – oh and say that Patrick Ness is a complete fool and clearly didn't understand the book, I was completely outraged by his review, he probably didn't even read the book as he seemed to be talking through his ass.

Nicholas Dane is your best book yet and thanks again for writing it.

Phoebe
Thanks for the support, Phoebe. If anyone else has any comments, for or against, please sent them in – I promise to post anything legal.
Letter from Kate
Melvin
We met briefly last week at a conference in Sheffield, and I managed to buy a copy of 'Nicholas Dane'. I just wanted to say how much I loved the book – I won't say I enjoyed reading it exactly, as it was of course an uncomfortable read in many places – but is was so powerful and emotive and definitely a story that needed to be told. It's five days now since I finished the book, and I'm still thinking about it constantly.
I will certainly be recommending it to my students and, when finances allow, I'll buy a class set for our school.

It was really nice to meet you.

Kind regards,

Kate
Letter from Hannah
Melvin

I heard you speak a few weeks ago and before then I honestly thought that you were in it for the hype…it sold your books…but I loved it. I loved Junk, and although I thought it was fabulous, I loved how controversial it was because it actually got kids talking about the consequences of drugs etc…it actually spoke to them. I have read so much bad teenage fiction and your work is such a breath of fresh air because you do speak to kids in your writing and its truth and real life.

After hearing you speak about Nicholas Dane I realised you were for real, this wasn't a publicity stunt, you really believe in young people and their ability to change their own lives and I think this is fantastic. Thank you for writing.I spend everyday working with young people and trying inspire them, encourage them and build them up.

It took me a while to pluck up the courage to read Nicholas Dane because the subject is so close to my heart… its been sat on my desk for a while and I picked it up today and read it straight through, I found it hard to read because it was so real but equally that was why it was so fantastic. I can attach so many faces to Nick and Davey, it breaks my heart.

I don't honestly know which students I could pass this onto to read, whether they should find it on their own…who knows.

But thank you for writing this book.

Hannah
Hi Hannah – thank you so much for this – it's sad to hear there are so many people who think I'm only in it for the money, or something like that Yes, I do really believe in young people – I think they're charming and wonderful and much underrated – much sat on, actually. Of course, publicity is nice, book sales are nice and it's just marvellous if your work is part of national debate – but only if it's about something genuinely interesting and worthwhile.
Having said that, I'm not so sure that the publicity is such a good thing any more even as far as sales are concerned. It used to be, for Junk and Doing It, but these days, I'm not sure it doesn't keep my books out of alot of libraries and schools … but who knows?
I'm particular happy you like Nick Dane – it's been a difficult book all round and attracted a lot of criticism even from people I thought might understand why it was written. It's made me feel like I want to do something bit lighter and easier next time. Thanks you so much for letting me know!
Melvin PS – Can I post your email on the website?
Hi Melvin,

Of course you can put this onto your website…don't stop writing the gritty stuff, God, we really need you to because there aren't a lot of people that aredoing it and actually getting it right. Bloody hell, keep going your writing isamazing and it does reach them.

I meet with librarians all of the time and sometimes they make me want to pull my hair out – some of them actually cut the naked pictures of women out of artbooks because they think it is pornography, they may as well burn them if they are doing that! The whole point of a library is that students can choose,they can read the books that there parents won't buy them…what is a safer environment to learn from other than a book?

Perhaps I am too liberal for them, but to be honest I want to be dynamic in thethings that I do.

Hannah
Wow – couldn't agree with you more. I must lead a very sheltered life, I had no idea people were still defacing artbooks to keep the bare ladies aware from the boys. How controlling is that – is it even legal? I'm astonished.
I'll certainly keep on writing and I hope you keep on working in libraries. It's all so easy for controllers to take over – it sometimes seems to be the default position in this country. Young people need to be enabled, not controlled.
Melvin