"A chilling, un-putdownable, sinister thriller." — Bookseller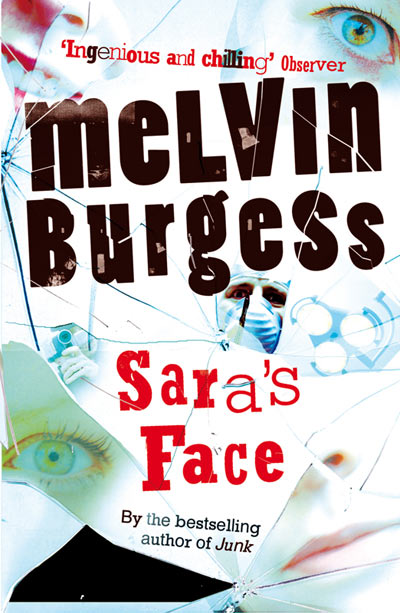 About the book
In a world of fame, wealth and corruption, where youth and beauty are sacred, what price the face of a young girl, to an aging rock star who has destroyed his own?
"'What's real is – this is real; this is my big chance. I fucked up big time and let myself down. But out of it – well. Anything could come out of it. And I knew at once what I was going to do. I know it was cheeky. I am cheeky. I'm the cheekiest person on this whole planet, let me tell you! I know he's kind.He's famous for being kind. So I had to do it. I had to ask him to make my dreams come true. So I did.'
In Sara's Face, Bluebeard's Castle meets Heat magazine. The result is a taut psychological thriller as slick and sharp as a scalpel. Sara wants fame more than anything.No one is going to stop her, least of all her ex-boyfriend, Mark. When the living legend, Jonathon Heat, walks into the hospital ward where she is being treated for burns, she is offered an opportunity and takes it, setting off a chain of events that will bring her to the very brink of destruction, because Jonathon Heat wants something too.
Is face-theft a step too far even for Jonathon Heat and his notorious surgeon? Burgess creates a world in which the most bizarre and extreme behaviour seems normal. Surrounded by sycophants, the charismatic Heat manipulates his staff but is exploited himself by the sinister surgeon, Dr Kaye, who has made him what he is – his own personal work in progress.
Sara is lured into this world with the promise of fame and the boundaries between reality and illusion quickly blur. Sara's Face is about fame, corruption, identity,truth and body image, as well as love, friendship and loyalty – all big themes as we have come to expect of Melvin Burgess and, true to form, it is all wrapped up in a cracker of a story, as gripping and original as it is shocking.
Melvin Burgess is justly regarded as the Godfather of Young Adult Fiction. Junk, the definitive tale of teenage heroin addiction, earned him the Guardian Prize and the coveted Carnegie Medal. More recently, his controversial novels Lady: My Life as a Bitch and Doing It have put him in the public eye. Doing It won the LA Times Book Award and was adapted for television in the US, in a series starring Kelly Osbourne.
Authors note
To be loved and beautiful, to be rich and famous… If you have those things, what more could you possibly ask out of life? For Sarah Carter it was not enough. She wanted to become so famous, that no one could ever think of her without feeling differently about themselves. She wanted to become a living work of art.
As we all know, she achieved her ambition, but the cost was higher than she could ever have dreamed. What she lost, in the end, was even more than her beauty and youth. It was herself.
When I was first asked by the Lucy Smith Foundation to write this book, my first reaction was, everyone has heard the details on TV and radio so often, why should I want to tell this strange story yet again? But thinking about it, it seems to me that although Sarah went so much further than most of us, her ambitions are not so very different from many people today. She wasn't poor, but she wanted to be rich; she was loved, but she felt rejected. Above all, she was beautiful but, like so many of us today, she felt ugly.
As Jonathon Heat himself, twice voted the most beautiful man in the world, once famously said, "Ugliness is my disease." In some form or other, we all suffer from the same illness. On the surface, Sara's story is about beauty, about love, about celebrity and fame, but underneath, it is a book about us all.