Well, will you look at that! Junk is twenty years old this year and the YA Book Prize is marking the occasion with a special award. I'm so flattered and pleased!
You can read an interview with me and Charlotte Eyre from the Bookseller here.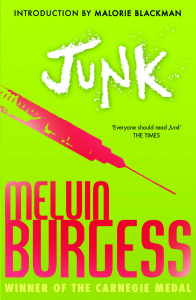 Here's Junk, reissued by Andersen Press with an intro by Malorie Blackman and some extra material, from the letters to and fro-ing between myself and the editors, while it was actually being written. It was quite a struggle, as you can read. Interesting – I'd forgotten a lot of what went on at the time myself.
Many thanks to Andersen Press, and to Bookseller who sponsor the YA Book Prize.